Hy-Vee Veterans Discount
Long Business Description
Enjoy a free breakfast for veterans and active military members November 11, 2019 from 6 – 11 A.M.
This event is in support of the Hy-Vee Homefront initiative which salutes the service of our nation's veterans with special programs and events, and provides support to organizations that serve our military members, veterans and their families. Learn more about Hy-Vee Homefront.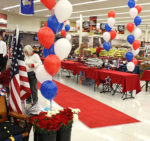 Long Business Description
Many Hy-Vee stores celebrate Veterans Day each year by offering a free breakfast buffet to all veterans and active-duty military members as a way of thanking veterans and military members for their service. Hy-Vee typically serves more than 90,000 veterans and their guests each year at their in-store dining facilities or restaurants. Many stores offer planned programs, displays, entertainment or other activities to complement the breakfast event.